Of all the reveals on the home renovation shows I love and adore, none is as exciting or as transformative as the kitchen or bathroom. My reward for watching a solid 45 minutes' worth of bad banter and demolition porn is the grand reveal: a spanking new kitchen, kitted out with a shiny marble island or a bathroom the size of some studio apartments, with a free-standing tub tucked away under a window, and a fresh-out-the-box toilet, virgin porcelain, untouched by human butts.
As the hosts of these programs say time and time again, the kitchen and the bathroom are the two most expensive rooms of the house to renovate, and if years of watching HGTV have taught me anything, it's that they're also the spaces in a house where the most decisions are made. From backsplash to countertops to ranges, faucets, and vanity lighting, the mind reels at the vast amount of choice. There's truly something for everyone at every possible price point, and figuring out what actually works for you is a personal journey. But because this is my job and also a personal passion, I spent three days running around New York from showroom to showroom, as if I were outfitting my own home renovation, to sniff out the best, worst, and the "I guess!" of today's bathroom and kitchen finishes and appliances.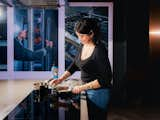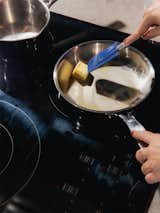 Induction Burners
Gas stoves are terrible for the environment and, by extension, not great for humans. Prior to my visit to the Dacor Showroom in Manhattan, I thought (despite my job) that an induction stove and an electric stove were one in the same. (An induction range heats up via what seems like magic—electromagnetic waves that heat the cookware, making for an evenly heated pan and a faster cooking time all around.) Edouard Massih, owner and founder of Edy's Grocer in Brooklyn, and Jillian Bartolome, a Los Angeles–based pastry chef, urged me to consider the following criteria in considering an induction cooktop: Are their burners of multiple sizes? Does the power display make it easy to adjust the temperature? And, most importantly, is it easy to use and clean?
In lieu of buttons, knobs, gaskets, and dials, the Dacor induction cooktop I tested presents as a smooth rectangle of black glass with a simple panel in the front that controls the burners. The temperature of each burner is rated on a scale of 1 to 10, which means that, after a little trial and error, a savvy home cook can figure out what level heat is required to get a good sear on a steak or to boil water fast. Though I cannot speak to the former, watching the latter happen while testing the Dacor range was a revelation. A pot of water big enough to make a serving of instant ramen came to a bubbling, roiling boil in what felt like seconds. Two eggs, scrambled in an unholy amount of butter, came together in under five minutes. The stovetop itself was easy to clean—just some warm water on a microfiber rag got rid of the little blobs of egg left from my careless cracking. I remain a gas devotee only because it's what my rental provides, and, at least for now, being able to adjust the flame presents the illusion of control. But if and when the opportunity arises, induction is the way for me.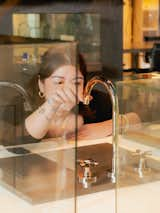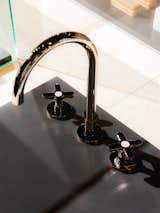 Faucets
If a faucet is doing its job, it looks great, but you're not really thinking about it when you use it, and if it's not, well, then there's a problem. Touchless faucets are having a moment, for practical and also sanitary reasons. (If your hands are covered in raw egg and meatloaf, it's much easier to just hover near the spigot to rinse off.) But there's something a little soulless about the touchless faucet: the automatization of a process that is both satisfying and simple foretells a future where everything we do will be automatic.
Fantini Rubinetti's Icona classic faucet , designed by Vincent Van Duysen, is not touchless, but has an elegant curve to the spigot and a pleasing, almost-vintage look to the individual taps. And the sink itself is a timeless design, so much so that it would fit into any space. The faucet is kept under glass at the Fantini showroom, so as to highlight the fact that it's art as well as a utilitarian appliance that every home must have. At around $3,215, it's certainly not the cheapest thing out there, but if you're looking for luxury and practicality—and have a lot more money than I ever will—then this is for you.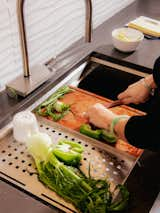 Workstation Sinks
While a farmhouse sink, of the sort popularized by home renovation television and vintage enthusiasts alike, is still the status sink per HGTV, do not overlook the workstation sink, which is hot on its heels. Though I've never given much consideration to my sink unless it's not working, Dean Peterson, the man behind Sink Reviews on TikTok, which had 799,400 followers at press time, offered some criteria to consider when evaluating one: Is the sink generic or are there unusual or beautiful features? Is it functional and does it fit within the context of its surroundings? And, most importantly, are there separate faucets for hot and cold? (He loves them and feels they are nonnegotiable.)
A workstation sink is intended to increase productivity, with many attachments and accessories. The sink I tested at Ferguson Kitchen and Bath's lovely and accommodating showroom allowed me to rinse vegetables and then cut them, all without moving from my command station. The strainer attachment was by far the most useful, but the cutting board left a little to be desired: Because it was not flush to the edge of the sink, leaning over just slightly to cut the fennel and green pepper for my salad hurt my back.
Despite these quibbles, a workstation sink has its perks. A small space could benefit from this sink's multipurpose nature, though I cannot imagine any average rental apartment going the extra mile to include anything other than the standard-issue metal. And while you can certainly replicate the feel of the real thing by purchasing any number of over-the-sink doodads that intend to save space, the luxury of a workstation sink is that everything fits seamlessly.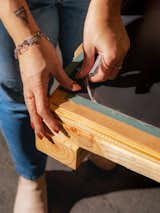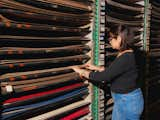 Countertops
Dark, sumptuous countertops are all the rage. And while black marbles and natural stone look lovely in the kitchen, but there are less expensive options, too. In the outer reaches of Long Island, in a charming town called Bethpage, inside a cavernous warehouse, I gained a newfound appreciation for that much-maligned material: laminate. Much like tile, laminate is a versatile material that can be used everywhere, but it is especially prevalent in countertops. The trick with laminate is getting it to look expensive; thanks to the wonders of modern technology, it can appear to be marble, stone, wood, or a photo of your aunt Elizabeth—if you can print it, you can put it on laminate! For countertops that aren't natural stone, designer Hana Mattingly, of Innen Studio in San Francisco, urges simplicity over everything. "Look out for one that is simple and doesn't have much obvious faux veining," she says. "Since it's not the real thing, it's better not to fake it, but to embrace more subtle patterns and colors."
Starting at $3 a square foot, Wilsonart's Traceless line is a very affordable option that both looks and feels luxurious under the hand. To thoroughly test its smudge proof claims, I pressed my sweaty palm against the soft black and watched in amazement as my greasy print disappeared right before my eyes. It's a neat party trick that stands as testament to the durability of the product, but also its claims. Spilling a glass of red wine on a creamy white slab of Calacatta is cause for agita, but doing so on a hulking length of laminate is no biggie. Refill your glass, wipe up the spill, and you're good to go.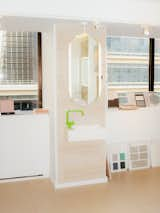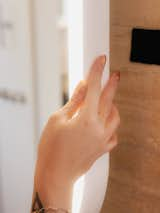 Bathroom Lighting
Of all the places one might encounter hideously unflattering lighting, a restroom sits high atop the list. Bathroom lighting is historically awful—flickering fluorescent tubes or dingy yellow bulbs—but like most things in life, it doesn't have to be if you're willing to spend a little cash. The Punto Wall Mount Mirror, which I viewed at Hastings Tile and Bath's showroom in Manhattan, is an elegant mirror with a built-in LED fixture with adjustable brightness that gave me a close look at various parts of my visage that have been otherwise obscured by the subpar lighting of my current apartment's bathroom. Innen Studio's Hana Mattingly recommends looking for a damp-rated, dimmable lighting fixture that offers front-facing illumination. Punto's offering did not disappoint; it was quite bright (but dimmable) and highlighted every pore, hair, and wrinkle, but not in the cold and clinical way a mirror with a ring light behind it might. It was both humbling and sobering to consider myself this closely, but I'm grateful for the experience as it gave me the chance to pluck an errant nose hair that had been evading my grasp (and also to contemplate Botox in a serious way).
While I won't be springing for cosmetic surgery at any point in the near future, my experience showed me that good lighting really does make a difference—and if you can find it at any price point, why not?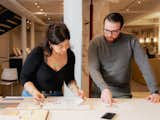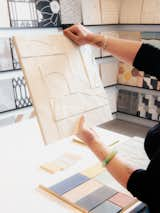 Tile
Tile feels the most important of all the finishes in a kitchen or bathroom. It communicates personality and verve and is a good measure of an individual's taste, good or bad. Parsing aesthetic choices in this category is pointless, as it is truly a matter of what you like, but in terms of practicality, utility, and function, there are some things to keep an eye out for, according to Innen Studio's Hana Mattingly: Does the tile have finished edge pieces? Is it sealed and therefore nonporous? And, for ease of installation, can the tile be mounted to a larger eight-by-eight board?
At the Ann Sacks showroom, a truly dizzying array of tile covered the walls, but I only had eyes for Kohler's WasteLab offerings, which are practical, beautiful, and good for the environment. (They're made from products left over from the manufacturing process). Thankfully, the options for color and texture were both tasteful and bold, but what I was really looking for was practicality. Wastelab ticked all the boxes Mattingly listed, while also meeting one of my personal requirements for being easy to clean.
A bright smear of curry paste on a tile wiped away like a dream and, miraculously, didn't stain. Underhand, the tile felt cool and quietly expensive, artisanal but muted enough to fit in any decor—a fabulous selection for the apartment I wish to renovate in the future.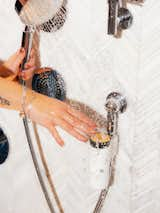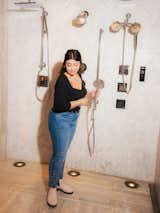 Infusion Showerheads
The new thing in shower innovations is experience—a shower is a shower, but wouldn't it be more fun if your particular shower replicated some of the amenities a spa provides? Hai's signature product is a fairly standard but elegantly designed showerhead with an infusion attachment. Setting up the showerhead sent to my home was easy enough for me, a woman who would rather outsource most of her tasks to someone else. It provides the options for a hard stream or a more gentle mist, and the Bluetooth connectivity, which allows users to monitor water flow, among other things, from their phones is a gimmick rather than a necessity, though I suppose it was useful to see that if I treat myself to a 15-minute shower, I'm using far too much water for it to be sustainable. Scentwise, the infusion pods didn't do much more than a fresh bundle of eucalyptus strung to my showerhead with a rubber band would. But the pods don't leave as much of a mess as dried leaves do, and at $30 for a box of 16 tablets, they're slightly more cost-effective.
The new shower experience from Sprig by Kohler, functions similarly to Hai's infusion attachment, but as a bonus, the unit can be affixed to any showerhead. And the Kohler showroom has an experience room where you can test any of the company's hardware offerings by actually taking a shower. While I wish I'd booked the whole enchilada, I was content to repeatedly wash my hands like a raccoon in the gentle yet powerful stream of a showerhead while the bergamot and lemongrass scent of their Recharge pod (which you must continually repurchase, like printer ink) filled the wet room.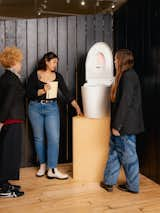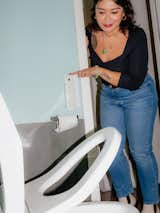 Bidet Seats
No longer relegated to European hotels, the bidet is a fantastic solution to the age-old problem of how best to tend to your undercarriage after the deeds are done. Companies like Tushy have democratized bidets, offering the basic functionality at a reasonable price point, but if you're going to have a bidet, it might as well do everything and a little more.
While there are other, more reasonable options on the market, the first name in luxury toilet experiences is Toto. Prior to visiting the brand's Manhattan showroom, I'd only heard of the legend of Toto—RuPaul's Drag Race icon Detox splurged on a Toto Neorest for her home and Drake gave DJ Khaled four of the same for his birthday. In person, the Neorest is, I'm sorry, gorgeous—a big boy, to be sure, but kitted out with the attendant bells and whistles that one comes to expect from luxury models. (While I was unable to test out a Neorest for myself, I am still in its thrall and will be for some time.)
The Toto Washlet, on the other hand, is still an experience, elevating the simple act of using the restroom to a bit of a spa moment. The seat, which is constantly warm, lifts and closes automatically, while a handy remote control provides the user with a variety of options for below the belt maintenance once your business is handled. The initial burst of warm water on the nethers took this writer by surprise, but the drying function—a gentle breeze of warm air, for as long as you want—is something that I now cannot live without.