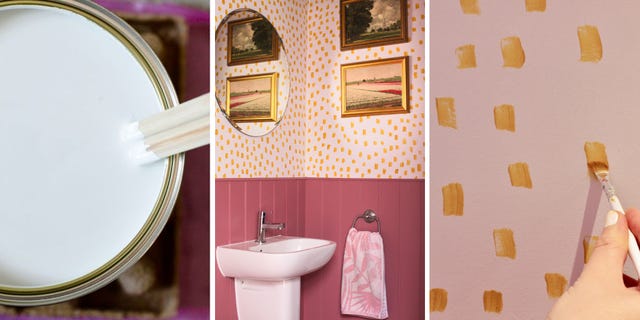 Jen Brake (@halfpaintedhouse)
Transforming your home with paint is one of the easiest DIY projects you can tackle, even more so if you stick to small pockets like alcoves, cupboards or a compact downstairs loo. Alongside Jen Brake, the talent behind @halfpaintedhouse, we are covering a series of small but impactful makeovers you can make around your own home.
We asked Jen to use the House Beautiful paint at Homebase in a series of small DIY transformations – have a look at how Jen updated an unloved cupboard with some clever painted decoration, and scalloped shelving, and how she tackled a makeover of an old wardrobe with a fabulous painted motif.
Here, Jen transforms a downstairs loo with bright pink wall panels and hand-painted accents. This transformation is best-suited to those who have panels installed, or those who know their way around a saw and a nail gun.
For the transformation you will need:
MDF panels (buying them pre-cut will make your life easier)
3 x paint colours
Paint brush or roller
Small paint brush for details
Wall adhesive
Hammer
Nail gun
Tile remover (or a flat-headed screwdriver in a pinch)
Decorator's caulk
Saw
Jen started by removing her existing wall tiles with a hammer and tile remover. When removing tiles, they are prone to chip and come away in shards, so it's important to protect yourself with safety goggles and protective gloves. Try to scrape as much dried adhesive off your wall as you can – it should come away easily by tapping with your hammer and tile remover – you want a flat surface when gluing your wall panelling.
Jen then used a roller to paint the whole room in her chosen base colour – House Beautiful Think Pink TP.18 at Homebase.
Adding the panelling is the trickiest bit of the makeover. Remember that panelling is purely decorative and not structural, so your bathroom furniture need to be fixed to a wall – this means some fiddly sawing to fit your panelling around your sink and toilet. Jen is a bit of a DIY pro, and has a great guide on cutting and gluing panelling that you can watch here.
Whilst Jen makes her own panelling with sheets of MDF, you can make life a little easier for yourself by purchasing pre-cut panelling and moulding from the likes of Homebase. Jen uses a nail gun and wall adhesive to secure the panelling to the wall, and seals it with decorators caulk before painting it in House Beautiful Think Pink TP. 24 at Homebase.
The sweet yellow details are added by hand using a small brush in House Beautiful Earth Notes EN.06 at Homebase.
Follow House Beautiful on Instagram.
---