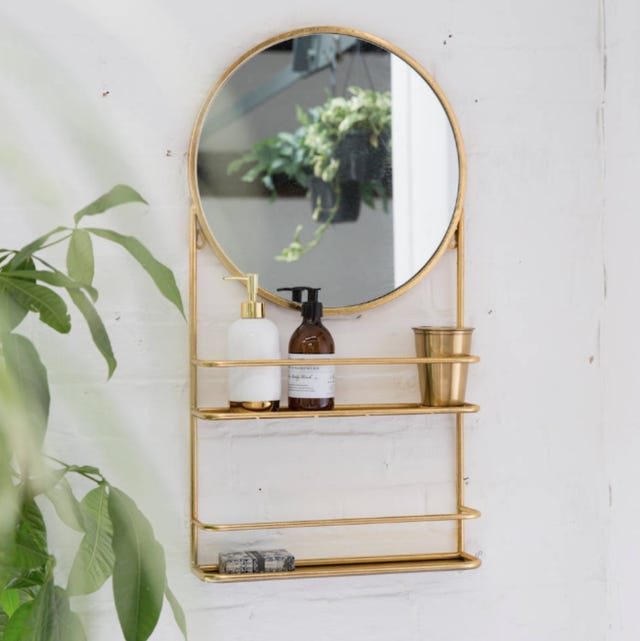 –
Bathroom accessories and ornaments can be the deciding factor between a drab and fab washroom. From petite ensuites to large family bathrooms, selecting the right bathroom accessory helps to tie the room's overall look together and inject some extra personality into the space.
Director of Where Saints Go, Tracey Hague, agrees: 'Bathroom ornaments are a great way to add character and style to your bathroom.'
Accessories for a bathroom can be functional or purely ornamental, but the best options are a little bit of both. Unusual bathroom ornaments with quirky designs help to create a visual focal point. On the other end of the scale, classic bathroom accessories help to create a polished, uniform look.
What are the most popular types of bathroom accessories?
'Live or faux plants add a touch of nature and freshness to the bathroom,' advises Tracey. 'Prints, photographs and paintings can add colour, texture and interest to a bathroom personalising the space. Decorative trays organise and display toiletries, soaps, and other items.'
The most popular accessories and ornaments link with the top bathroom trends for 2023, including warm metallics and spa-inspired bathrooms.
How should I choose accessories for a bathroom?
'Consider the overall style of your bathroom, colours and patterns you have used and the size of your space,' says Tracey. 'Try to choose items that complement the overall design scheme. When styling bathroom ornaments, think about balance and proportion. Group small items for impact, and make sure large items don't overpower the space.'
If your bathroom is compact, choosing ornaments for a bathroom windowsill or shelf will make the best use of surface space. Multi-functional and versatile bathroom accessories (such as tumblers and trays) are also a great option.
From luxurious soap dispensers to ceramic trinket trays, keep reading to discover 17 on-trend and functional bathroom accessories for 2023.
Advertisement – Continue Reading Below
1
Best Bathroom Accessories – The Marble Bathroom Set
housebeautiful.co.uk
Tillie Set of 3 Marble Bathroom Accessories
2
Best Bathroom Accessories – The Shell Vase
hm.com.uk
Shell-Shaped Vase
3
Best Bathroom Accessories – The Bathroom Mirror
notonthehighstreet.com
Gold Circular Bathroom Mirror With Shelves
4
Best Bathroom Accessories – The Scalloped Dish
oliverbonas.com
Mae Scallop Green Ceramic Soap Dish
5
Best Bathroom Accessories – The Colourful Dispenser
dunelm.com
Elements Lotion Dispenser
6
Best Bathroom Accessories – The Concrete Tray
notonthehighstreet.com
Concrete Wave Tray
7
Best Bathroom Accessories – The Trinket Tray
etsy.com.uk
Splatter Black & White Jewellery Trinket Dish
8
Best Bathroom Accessories – The Soap Dispenser
housebeautiful.co.uk
Lottie Patterned Soap Dispenser in Gold
9
Best Bathroom Accessories – The Glass Vase
Dunelm
dunelm.com
Boat Ornament
10
Best Bathroom Accessories – The Tortoiseshell Holder
oliverbonas.com
Brown Tortoiseshell Glass Toothbrush Holder
11
Best Bathroom Accessories – The Cane Basket
dunelm.com
French Cane Natural Storage Basket
12
Best Bathroom Accessories – The Bathroom Bin
Umbra
amazon.co.uk
Umbra Touch Waste Can
13
Best Bathroom Accessories – The Candle Holder
thewhitecompany.com
Mango-Wood Hurricane Candle Holder
14
Best Bathroom Accessories – The Bathroom Hook
oliverbonas.com
Shell Gold Wall Hook
15
Best Bathroom Accessories – The Bathroom Rack
Habitat
Bamboo Bath Rack
16
Best Bathroom Accessories – The IKEA Jar
ikea.com.uk
Vardagen Jar
17
Best Bathroom Accessories – The Marble Tray
dunelm.com
Dorma Purity Marble Tray
Advertisement – Continue Reading Below